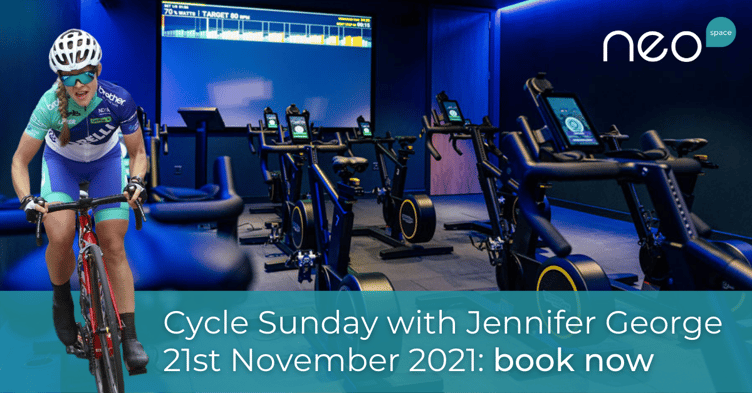 Event: Cycle Sunday at neospace with Jennifer George
21st November 2021 at neospace. Event starts 10am
With the weather turning wintry and the nights closing in, getting out on your bike might become a bit more of a challenge. Why not ease yourself into winter by trying out a Skillbike? This stationary bike has a unique real gear shift that lets you experience the thrill and challenges of outdoor cycling. Pick from an infinite number of virtual routes whilst receiving precise, valuable feedback to improve your power and efficiency.
Aberdeen now has its first Skillbike studio at neospace with instructor-led sessions to work on your fitness levels. To celebrate the launch of its winter timetable, neospace is holding the first Cycle Sunday on 21st November. We have been working in partnership with Technogym to create a great cycle day, to inform as well as put cyclists through their paces.
The whole day will be hosted by Scottish professional cyclist and now Technogym Skillbike instructor Jen George.
Jen was born in Glasgow and began cycling in 2012 with London club Dulwich Paragon CC. She soon found success winning the Scottish National Road Race Championship for two consecutive years. As an active and enthusiastic cyclist, being part of team Independent Pedalers, Jen is also sharing her cycling knowledge, expertise and experience by delivering SkillBike sessions.
On Cycle Sunday, Jen will be leading 4 sessions that focus on stamina and speed with each followed by a 2K challenge. The winner of each 2K challenge will receive a prize for their pedalling victory!
Cycle Sunday will be a great opportunity to come along and test out a Skillbike and see how brilliant these bikes are. You will also receive the rare opportunity to be coached through a session by a professional cyclist with years of experience and competition wins under her belt.
This event will also provide the chance to meet more of the Aberdeen cycling community as you take part in classes or socialise at our open juice bar.
Bikes are not available to under 18s. To register for Cycle Sunday on 21st November click on the button below. We look forward to seeing you.